Creating a 90 Day Plan For Your Direct Sales Business
Looking to create a 90 day plan for your business? I know it can seem daunting, but don't worry, I'm going to break it down for you into easy, bite-sized chunks!
First off, what is a 90 day plan?
A 90 day plan might include a goal directly related to growing your customer base, sales, team or achieving a promotion. You might also pick a goal that is more project-based like launching an email marketing system, developing an onboarding system or planning a retreat for your team.
As a leader, you may even create a few sample 90 day plans of typical goals your team might set to make it easier than ever for your team to pick it up, follow each step and make it happen.
By the way, you can begin this planning process at any point during the month or time of the year. It doesn't need to be an activity that just takes place on January 1.
Are you ready? Let's dive into how to create a 90 day plan.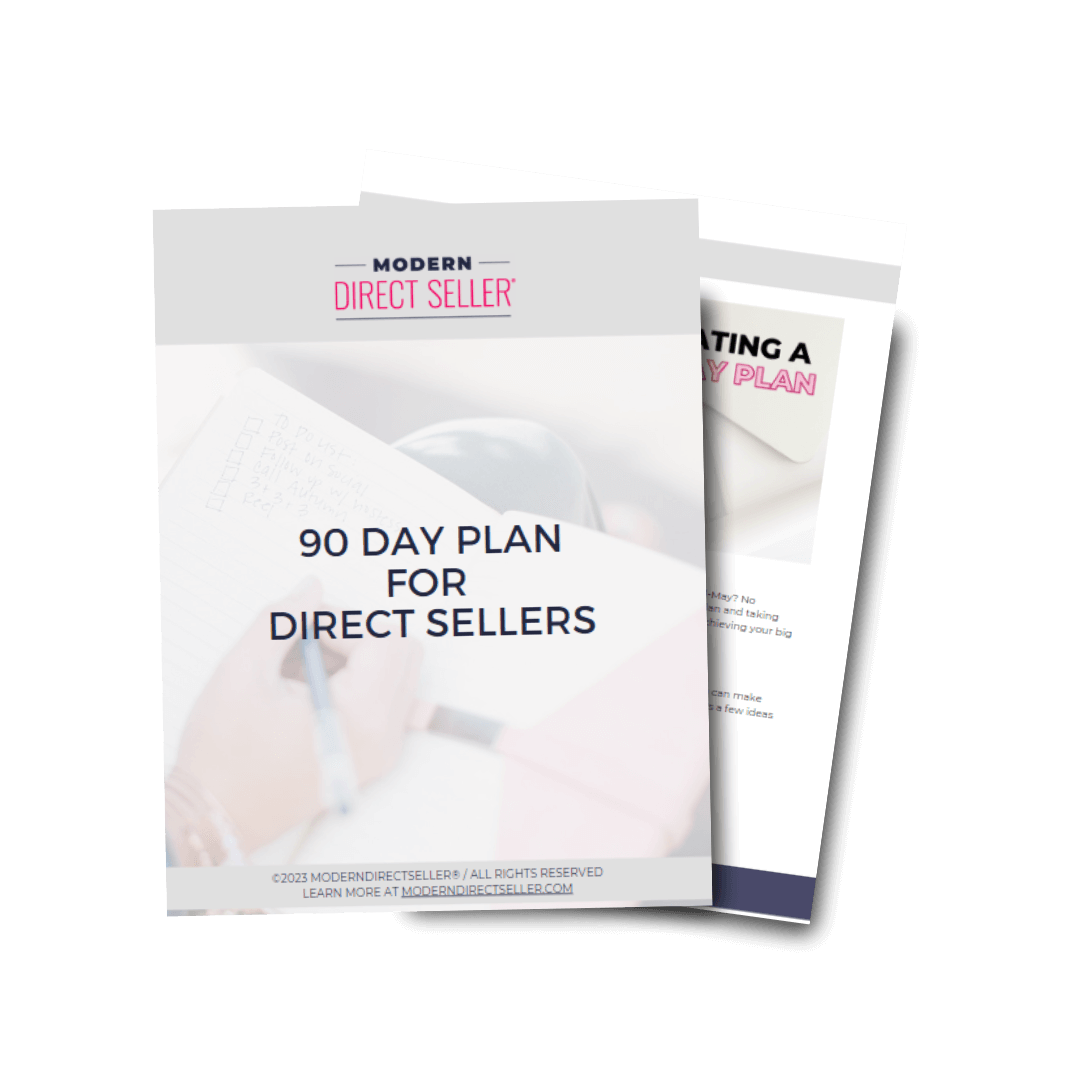 Step 1: Think Big and Brainstorm
In the next 90 days, what do you want out of your business? Maybe you want to add a certain number of people to your team or publish a blog post each week. Maybe you'd love to earn that incentive trip. Whatever it is, make sure your goal for the next 90 days meets these criteria:
It's a stretch goal (a little outside your reach)
It's a longer-term goal (not something you can get done in an hour or two)
It is results-focused (something that would really move your biz forward)
Bottom line – 90 days from now, achieving this goal should be something worth celebrating. I'm talking confetti, chocolate cake, sprinkles, champagne – the works!
Step 2: Refine that Goal
Let's make it crystal clear and tangible. Specifically, what will it take to accomplish your 90 day plan?
For example: My goal is to grow a presence on YouTube. Let's get more granular.
Specifically, I want to set up a YouTube channel and get my first 100 subscribers to my channel. Once it is launched, I want to post 2 videos per week on YouTube.
Think about how you can make your goal more specific.
Step 3: Get Ahead of Your Obstacles
Now that we have a specific goal that we want to reach, let's get ahead of the obstacles that might be in our way so we can overcome them.
What is going to hold you back from accomplishing your 90-day plan? Other priorities? Distractions? Getting stuck? Feeling discouraged? Mindset? Lack of support?
Here's the thing– anything worth accomplishing, isn't going to be easy. Be prepared to remove, or navigate, these obstacles to keep you on track.
Step 4: Break it Down into 3 Milestones
It's time to take the big 90-day goal and break it down to 3 milestones – one per month. Let's work backwards to break apart the quarterly goal, down to a monthly goal.
For example, going back to the YouTube goal, here's how that might look:
January: Set up channel. Get first 50 subscribers.
February: Record 8 videos. Add 25 subscribers.
March: Record 8 videos. Add 25 subscribers.
What does that look like for you?
Step 5: Break it Down into Weekly Milestones
Stick with me, here. Now, we're getting even more detailed. Let's take that same example and look at it on a weekly level:
Week 1: Create a YouTube channel. Write channel description. Create cover art
Week 2: Determine topics and content calendar for first 20 videos
Week 3: Record, Edit + Publish Video #1
Week 4: Invite followers to subscribe (goal: 50 subscribers)
Week 5: Record, Edit, Publish + Share 2 videos
Week 6: Record, Edit, Publish + Share 2 videos
Week 7: Record, Edit, Publish + Share 2 videos
Week 8: Record, Edit, Publish + Share 2 videos (goal: 75 subscribers)
Week 9:Record, Edit, Publish + Share 2 videos
Week 10: Record, Edit, Publish + Share 2 videos
Week 11: Record, Edit, Publish + Share 2 videos
Week 12: Record, Edit, Publish + Share 2 videos
Week 13: Record, Edit, Publish + Share 2 videos (goal: 100 subscribers)
(Did you know there's actually 13 weeks in 3 months, bonus week!)
Your turn! How do we work toward that 90-Day Plan each week?
Step 6: Stay Committed and Accountable
The sixth and final part of creating your 90-Day Plan is staying committed and accountable to taking action.
Things are going to happen and you're going to fall off track. Think about how you're going to get back on the bandwagon.
You're going to run into challenges when you're not sure what to do next. Take messy action.
Map out the plan and share it with someone you trust – your team leader, your biz bestie, your spouse- and hold each other accountable to accomplishing your 90 Day Plan.
Stick with it and I guarantee you'll be crushing your goals in no time! I'm cheering you on!