How to Grow Your Direct Sales Biz with Business Habits.
Plus, FREE Daily Direct Sales Checklist.
In full disclosure, this post includes an affiliate link, which means that if you make a purchase, I'll earn a commission at no additional expense to you. I recommend this book because it's useful and helpful in my business, not because of the small commissions I earn if you decide to buy.
You've likely heard how important it is to touch your business daily. Even if it's just a small task. Working your business daily adds up and develops strong business building habits. Do you have a daily checklist for your business? If not, I got you covered. Grab this free checklist now!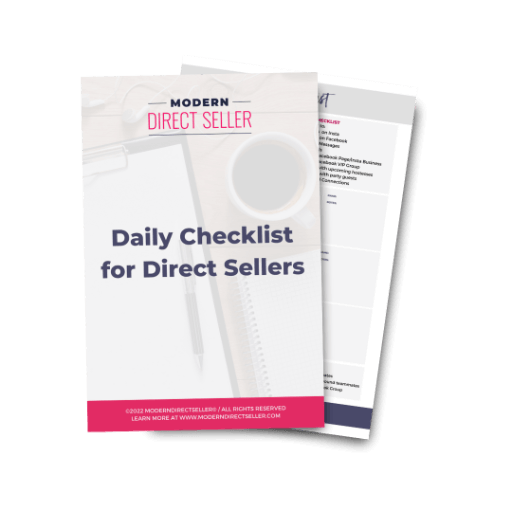 If you haven't read "Atomic Habits" by James Clear I highly recommend it. Not only does it help with building daily habits, and breaking bad ones in your life, but it applies soooo much to building my direct sales business!
One of my favorite quotes from the book:
"Breakthrough moments are often the result of many previous actions, which build up the potential required to unleash a major change." James Clear
Have you ever thought about someone that found success in direct sales–
wow, she must have just gotten lucky… An overnight success…
Reality: you aren't seeing the behind the scenes of her working her buns off! And if she's successful, she most likely has some kick butt daily habits!
Daily Habits to Grow Your Biz
Today let's talk about the actions we can take daily to move our direct sales business forward. Let's build those daily habits that unleash a major change!
Let's start by looking at habit stacking. Habit stacking is when we do certain habits every day, in a certain order in a certain place–they become routines that are triggered by another thing. That's how we build daily habits.
Here's a couple examples:
When I come home, I take off my shoes.
When I wake up, I have a cup of coffee.
The key to stacking habits is to identify where and when this new habit will happen.
So let's do one together:
I already have a habit formed of having a cup of coffee when I wake up. So now I'll stack in a new habit.
So here's my new habit stacked in:
Every day when I wake up and have my cup of coffee, I will reach out to 3 customers. I already know I will wake up and have my coffee, so I'm stacking in this next habit of reaching out to three customers.
FREE Daily Checklist
As part of us learning new habits for our business I'm including a FREE daily checklist worksheet for you! Keep it as is, or customize it to make it your own!
Start with your daily habit of ABC's — A: What active selling strategy are your deploying? B: How are you building relationships today? C: What content are you creating for your business?
Next up! Plan your daily 3+3+3's — Jot down 3 current customers, 3 future customers and 3 future teammates or collabs. When you do this daily, it adds up to over 3000 conversations in a year! Learn more.
Time for your Top 3. What are your top three things you need to accomplish! And these can be ANYTHING! So don't just think business. Sometimes it's home related like grocery shopping, other times it's writing emails or updating my website.
Another part of the daily checklist is to start your day with gratitude. After I set my focus, I spend a few minutes and jot down three things I'm grateful for. I find this really helps frame my day in a positive way. If you aren't already doing this, I encourage you to give it a try and see how it changes things.
Last but not least, clear your head and write down other projects or to-do's as well as what is carried over to tomorrow.
Put In the Work
Now, if you've made it this far, you are definitely someone willing and ready to put in the work to develop business habits! Hey, you may even be that person that newbies are looking at and thinking "wow she got lucky". But we'll know the truth. You were consistent and developed some business habits that led to your success!
Now grab your Daily Checklist below and let's get going!
I can't wait to see what you accomplish!