Modern Direct Seller Content Strategy
Ever feel like you're on a social media hamster wheel? You know… the kind that keeps spinning and spinning, and you're never done! And, you're just trying to stay afloat. You're not alone! In fact, social media is just one marketing strategy to build your personal brand. Sadly, many direct sellers think about social media as their one and ONLY strategy. Well, that changes right now! 
In this quick download, you'll learn the Modern Direct Seller Content Strategy, a framework to create long-form content (at least a few paragraphs) then break it into bite-size social media chunks to keep your audience engaged. Most importantly, this content can be used outside of social media as you build a website, blog, email list or video library!
Download the Modern Direct Seller Content Strategy Framework and get 7 long-form prompts to help you get started!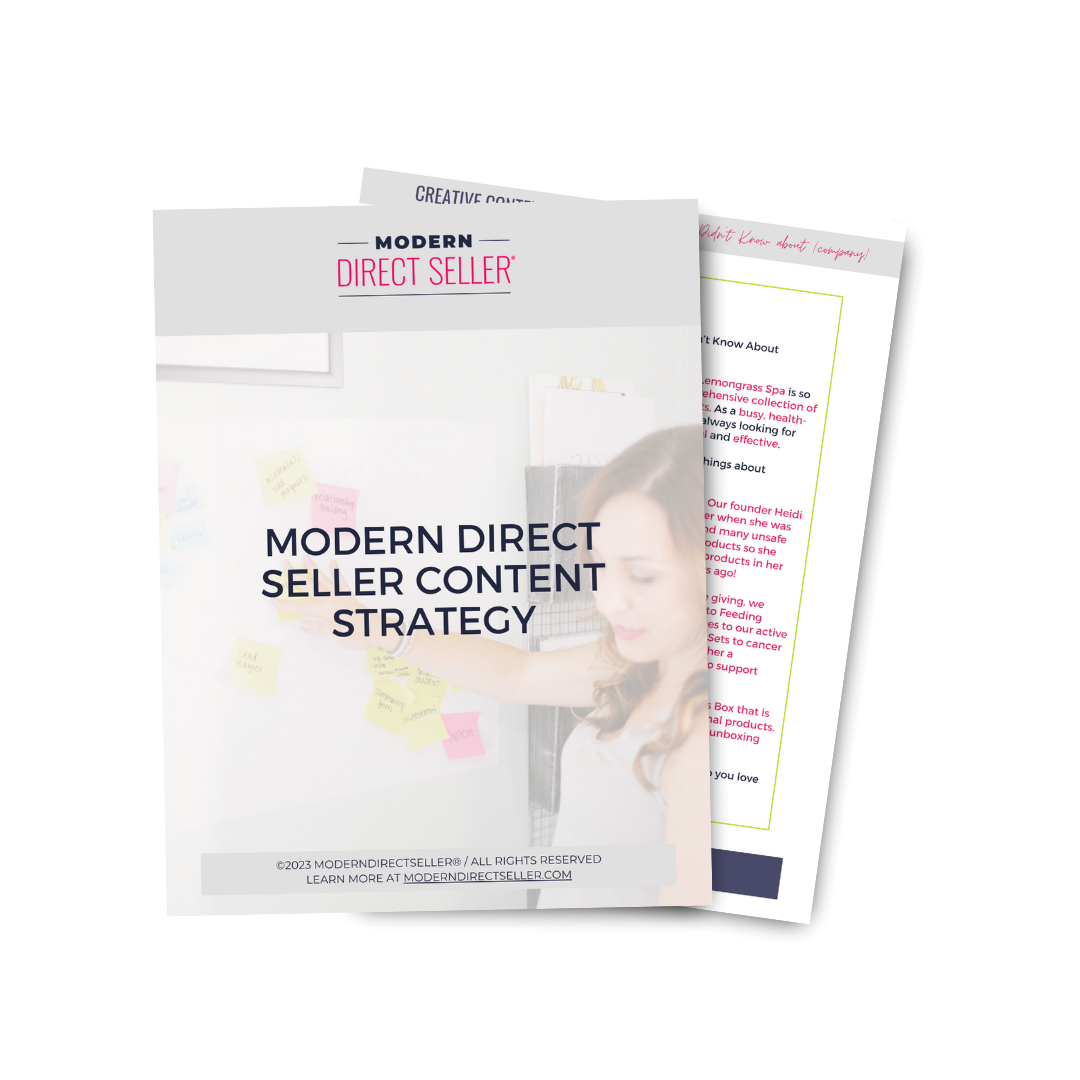 Why build Your personal brand?
Before we get into creative content ideas, let's start with WHY it is important to build your personal brand. You likely joined your direct sales company because they handled marketing for you, right? Right? 
Here's the thing: Your customers actually like shopping with you, more than the corporate brand. It's true. They know-like-trust YOU and want to hear from you in your own voice about your favorite products, recommendations and behind-the-scenes of your business. 
That's why when you post a picture with your cute puppy or your kids playing at the beach, you get far more engagement than a corporate stock photo. Your people really do LIKE you, and are curious to know more about YOU!
Rather than focusing on one-off social media posts, this strategy is all about long-form content. That's a fancy way of saying that the captions you're sharing are at least a few paragraphs. 
Why long-form content?
Great question. We want to start big! This increases the value you're providing to your followers, creates a more cohesive content strategy and also gives you exactly what to share in your short-form social content. It's a win-win! 
Long-Form Content: (at least a few paragraphs!)
Website or Blog Content

Freebie or Opt-In 

Video

Podcast

Email
Short-Form Content: (just a few sentences!)
Facebook, Instagram, LinkedIn Post

Pinterest Pin

Instagram or Facebook Story

Less than 60-second Instagram or Facebook Reel, TikTok, YouTube Short or Pinterest Video Pin

Tweet
Get excited! Not only does this reinvent your marketing strategy, increases your visibility and reduces your reliance on social media, but it's EASY PEASY! 
When it comes to your short-form content on social media, you may want to also sprinkle in other types of content that are less sales focused to boost engagement. Here's other "filler" short-form content to keep it light and fun! 
ENTERTAINMENT. Let's have fun and laugh. 
EDUCATE. I want to teach you something. 
PERSONAL INSIGHT. I want you to get to know me. 
ENCOURAGE. I am here to encourage and inspire you.