How to Create, Engage and Grow Your VIP Group on Facebook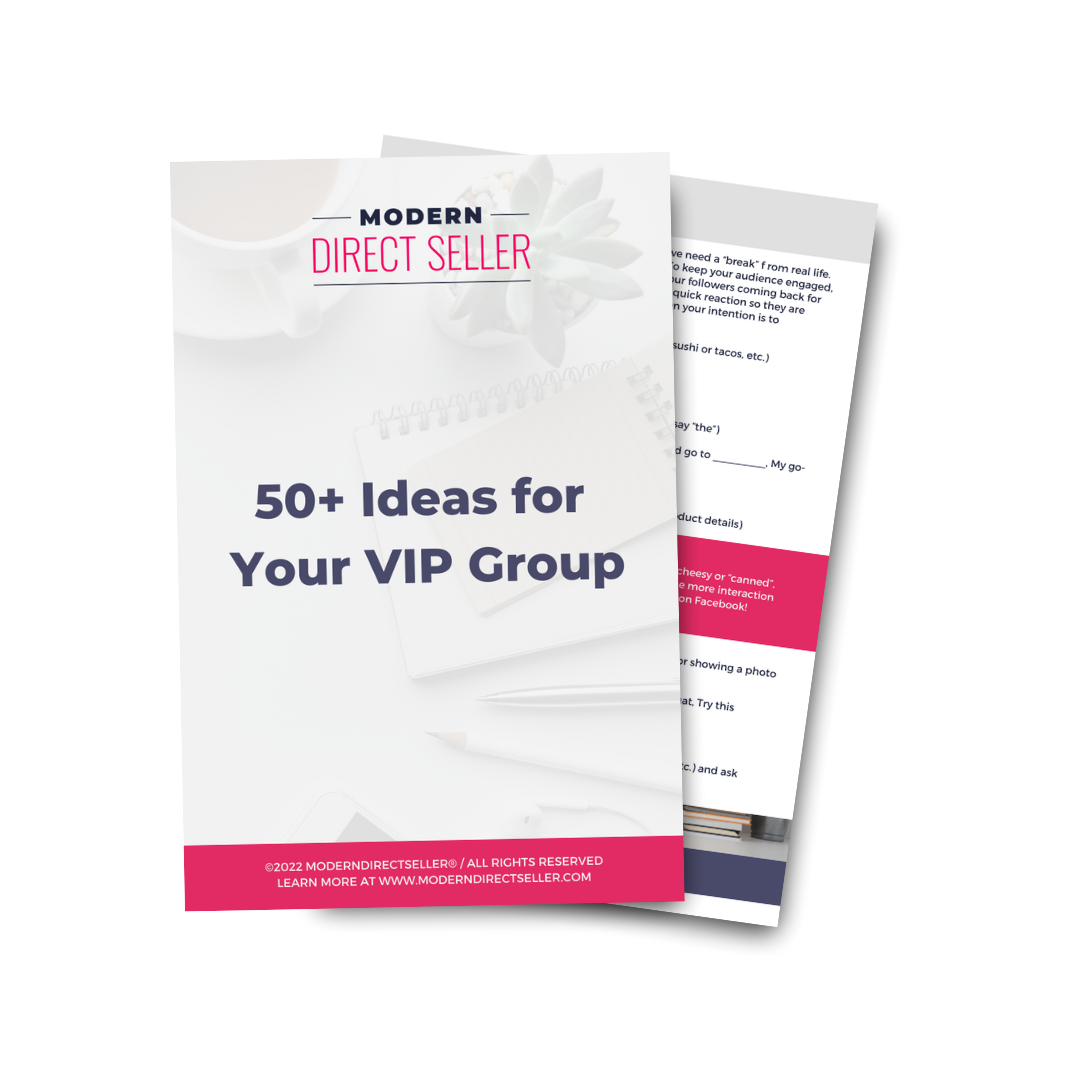 50+ Ideas for Your VIP Group!
Enter your name and email to get my freebie download of 50+ Ideas for Your VIP Group.
Are VIP Groups Dead? – Part I
Secrets to 2x Engagement in your Facebook VIP Group – Part II
How to Get People to Join Your VIP Group – Part III
If you are thinking about creating a VIP group, or you have one and interaction is well… crickets, you've come to the right place!
I absolutely love my VIP group and I think it's a must-have in any direct sales biz! Check out this blog post where you'll learn:
Why you NEED a VIP group
How to Create a VIP group
Tips & Tricks to keep your group engaged
Ideas on how to grow your VIP group membership
Why a VIP Group?
A VIP group keeps you in front of your customers–people are busy! And your VIP group gives you a place to connect with your customers and build relationships.
Plus, it gives you a place to post your awesome specials and giveaways!
How to create a VIP Group?
Easy peasy! Head over to your personal Facebook account, select CREATE, then create a Closed Group. A closed group allows others to request to join, but you get to approve them. Only members of the group can see your posts so it's a great place to post deals and giveaways if your company does not allow you to do that publicly.
Also, make sure you don't just add everyone (and their mama!) into your group! The key to a strong VIP group is that you treat them as your VIPs! Personally invite friends, family and customers to join your group! You only want members in your group that want to be there. Having an engaged group will boost the visibility of your posts on Facebook! Quality over quantity!
Value=Engagement
Now that you know the why behind VIP groups, let's dive into what you need to post to rock your VIP group! The key to an awesome VIP group is engagement.
You'll get engagement by delivering value. And you deliver value by providing information and entertainment. Makes sense, right?
Share pictures of you and your family, stories from your life, what products you love–and go further. You want to think about the members of your group… what do they care about? That's what you want to share. And, have fun doing it!
Take note when your post gets a lot of engagement. Do more of *that*.
While your company likely offers beautifully branded photos, what will get the most engagement are photos that include YOU in it! Don't be shy! Create customized images that include yourself! Make sure you have good lighting and do some light editing, if needed. Your customers want to see you!
Grow Your Membership.
Giveaways are a great way to grow your group, and keeps your current members coming back for more! Because really, who doesn't love a good giveaway?! (And, by giveaway – this doesn't need to break the bank… even a small gift from the Target dollar spot or an item you have a few extras of works perfect!)
And, be sure to keep inviting people to join long after the group is established! Nobody wants to be left out of the fun. Invite guests to request to join your group when you're doing an event or a party. You can also easily invite someone to your group if you've collected their email by adding their email address to the "add member" section of your group. Facebook will automatically send them an email inviting them to join. Every once in a while, you can even post about your group on your personal page–perhaps when you're doing a giveaway, planning to go LIVE or have a new release you're showing off.
Consistency is the Key!
To keep a VIP group rocking, the absolute key to success is CONSISTENCY!
Create a regular schedule–3 days a week, 5 days a week, you decide! Choose your schedule for posting and stick with it.
I recommend building out an editorial calendar where you decide what and when you'll post. This way, you can batch your time for creating content for a period of time–say the week or the month. Then spend a little time one afternoon and get it all scheduled. Easy Peasy! Then have some fun commenting daily to really keep the dialogue going in your group.
Speaking of content, if you're wondering what to share–a great way to generate content is to set up daily themes. One idea is Fan Friday where you ask your group to share photos with their fave product. Or maybe have a weekly product spotlight where you share information about a best seller.
One of my favorite ways to create content is to have fun with a 5-day series. Perhaps you create a series around new product releases or helpful tips related to your product!
Before you go, share a post that got a lot of attention and interaction in your VIP Group in the comments! Sharing is caring!
As an added bonus, get my freebie download of 50+ Ideas for your VIP Group!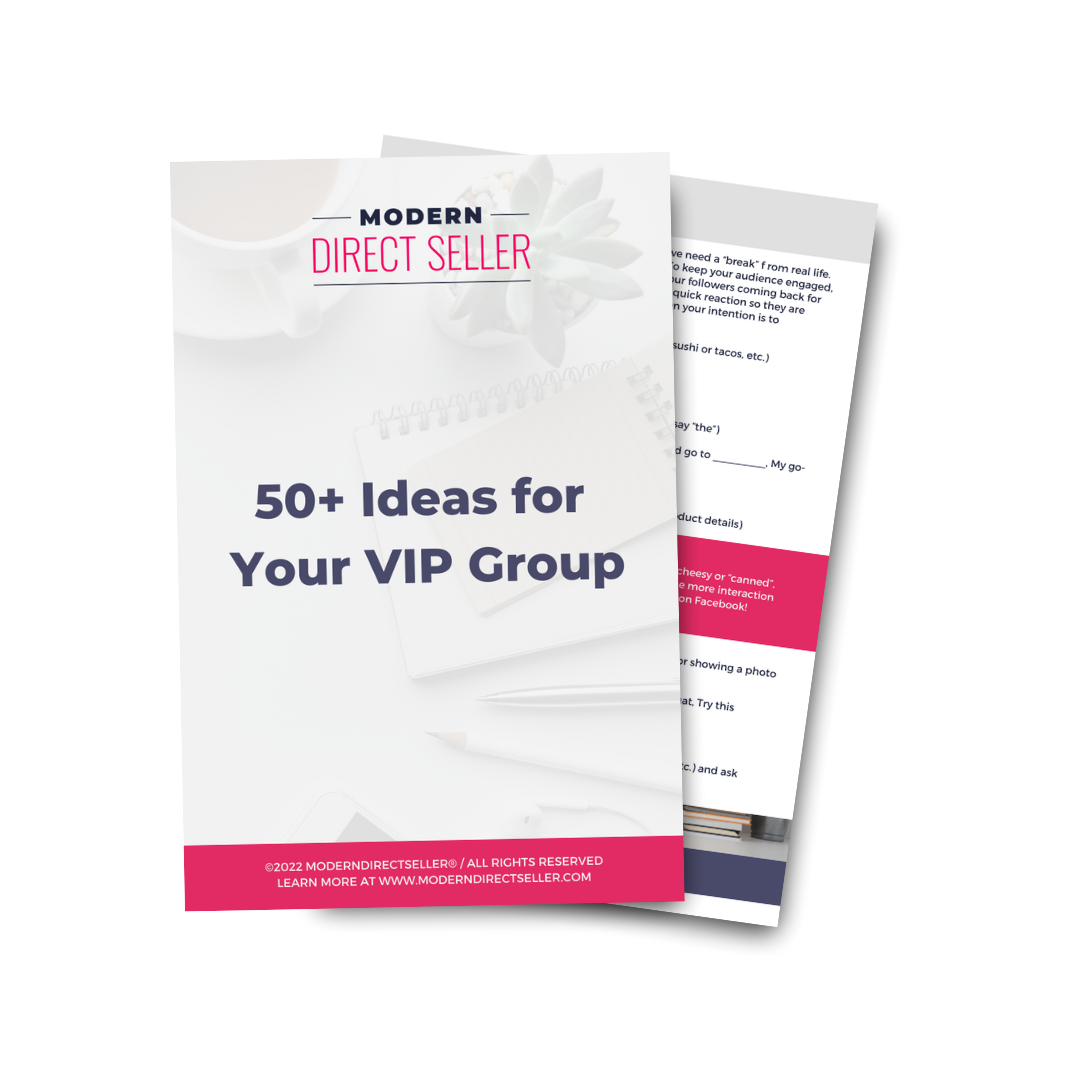 50+ Ideas for Your VIP Group!
Enter your name and email to get my freebie download of 50+ Ideas for Your VIP Group.