February Modern Direct Seller Box Reveal: Love Your Biz

February Modern Direct Seller Box Reveal: Love Your Biz
We shipped out our February Modern Direct Seller Box filled with useful and fun stuff to help direct sellers love their biz…  
Our February "Love Your Biz" theme was so much fun, and direct sellers have been swooning over all the ahhhmazing goodies they got this month to work their biz, grow their biz, look good while they do it, and also some treats just for them (or to share with their customers)! 
Wanna know what they got? Keep reading for the deets on what was included in our February Love Your Biz Modern Direct Seller Box! 
PLEASE NOTE: Our February box is sold out, but you can subscribe to our upcoming Modern Direct Seller Box Now.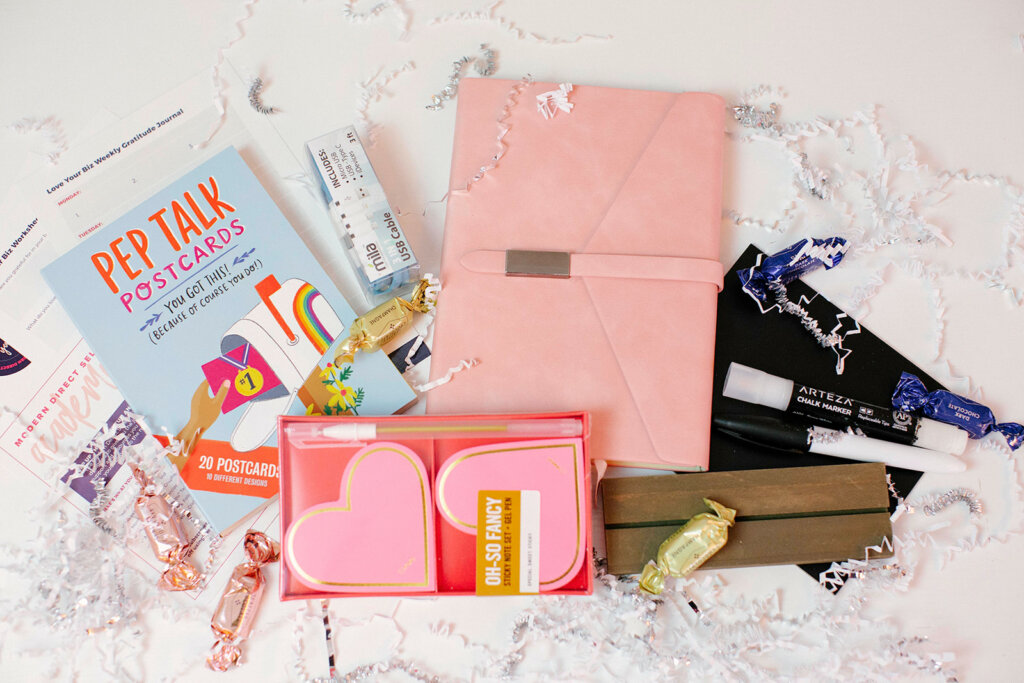 Subscribers to the Modern Direct Seller Box received these items below in February: 
Blush Journal
This luxurious faux leather journal with magnetic clasp was custom designed with a simple reminder inside that "You are Stronger than You Think". Jot down customer notes, goals, dreams and plans. Toss it in your favorite bag, leave on your nightstand or set it on your desk.
Oh-So Fancy Sticky Set + Gel Pen
Cute sticky notes that are heart-shaped? Yes please! And, a gold-ink gel pen. Swoon! They are oh-so extra! Make your message stick with these fun stickies. Write your February goal on one, send a love note attached to a catalog, take a selfie, leave a little love for a customer, hostess or teammate.
Pep Talk Postcards Book
Think of this book as your personal pep talk kit, making it joyously easy to brighten people's days, turn frowns upside down, and serve as a personal cheering section for all the deserving folks in your life. These postcards are sure to brighten up the day of your team, friends and family! This is a great way to share a little love for those that need it this month.
3 in 1 Charging Cable
Anyone always looking for a charger? Toss this in your bag, car or desk to always have a back up cable at your service. Charge any of your devices with this durable 3 in 1 cable that supports Micro USB, USB-C, and Lightning connectors.
Truffle Sampler
It wouldn't be February without a little chocolate! Enjoy three delicious flavors: 1) Champagne truffles really pop! Dark chocolate with all natural popping candy that tickles your tongue in celebration. 2) Dark chocolate infused with decaffeinated, deeply roasted and finely ground espresso. The coffee is ground and roasted at Joe's Garage, located less than 2 miles from the Seattle Chocolate factory. 3) Pink Bubbly is crafted using freeze-dried raspberries in white chocolate with all-natural popping candy pieces that tickle the palate like champagne bubbles, enrobed in dark chocolate.
Mini Chalkboard Sign with Wooden Base
This 5×6 erasable chalkboard is the perfect mini sign to share a message to your customers, hostesses and team on social media. It also fits perfectly in the detachable tabletop stand to easily have on display for vendor events or even in the background of your live videos. Use it over and over again after a quick wipe down.
White Liquid Chalk Marker
These non-toxic liquid chalk pens are washable and mess free. Simply wipe over your surface to clean it. The richly pigmented color creates smooth lines for all your designs. In addition to chalkboards, you can use on mirrors, windows, glass, plastic, car windows, bistro boards and more. Get your creativity on!
Think Outside the Box Training–Love Your Biz!
It's not all about what is IN the box, we also provide an online training and workbook to Think Outside the Box!
In February we focused on how to Love Your Biz as a Direct Seller! There were awesome tips shared and subscribers were taught how to stay in love with their biz over the long run, plus awesome worksheets to activate what was learned. 
Work, Grow, Look Good & Treat Yo'self
Wanna get in on the awesomeness! Our February box is sold out, but you can subscribe to our upcoming Modern Direct Seller Box Now—Monthly Surprises for Direct Sellers–delivered to YOU, every month! 

Check out the video below to see the actual products from our January Modern Direct Seller Box unboxing!