Let's Meet: Kristin Hankins
Kristin is one of our Modern Direct Seller Academy members and has found modern direct seller success! And we interviewed her to learn all about it. Check out her story here.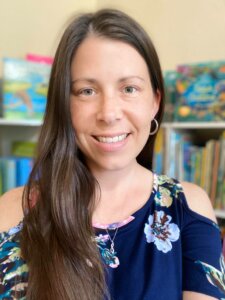 What is your Direct Sales Company & What inspired you to start your company? 
Hi! I am Kristin Hankins. I started working with Usborne Books & More over 6 years ago just for a discount on books. I never expected to fall in love with the mission, the business model, the creative outlet, the friendships, and the way it pushes me to always better myself. I decided I wanted a full-blown business, and my husband and I focused in on becoming debt free. We made that happen, but along the way I grew a team of hundreds of women who are finding the same benefits and loves I have found! I have earned multiple promotions and won several National Awards for team building & personal sales. The biggest success, however, lies in that I have been able to touch thousands of lives over the years, whether by helping children find a love for reading or helping women build a business of their own.
Tell us about your experience in the Modern Direct Seller Academy.
In the Academy, I was able to immerse in a group of people strategically working to grow their businesses. Every obstacle is met head on with solution-focused conversations and idea-sharing. I have been challenged to look for things in my business that I need to work on more. Additionally, I'm always getting new ideas to try out. By participating, my mindset has stayed positive and I'm continually being pushed to problem-solve and brainstorm.
What is your favorite part of being in the Academy?
My favorite part of being in the Academy  are the Masterminds, Done-For-Your Training, and Courses.
Since you joined the Academy, how has your business grown?
Since the joining the Academy, at least 50 people have joined my central group, and my personal sales have skyrocketed. In 6 of my 9 months of the Academy, I've sold over $4,000, which I had only ever done a few months in 5.5 years. I will be promoting out at least one new Team Leader soon, which is the first one in a year!
What advice do you have for NEW direct sellers?
Advice I have for NEW direct sellers is to understand from the beginning that it may not always be easy, and business may ebb and flow. Some people say that failure is inevitable, but I say it's only a fail when you walk away and quit. As long as you keep at it, you haven't failed.
What advice do you have for direct sales LEADERS? 
Advice I have for direct sales LEADERS is always work with other leaders to stay fresh on how to help and be a better coach. Never tell what you can ask.
How can others connect with you?
Connect with Kristin! 
Email: kristin@kristinsreadingnookblog.com
Facebook: https://www.facebook.com/groups/1413958708851371/
Website: KristinsReadingNook.com | http://shop.KristinsReadingNook.com
Thank you, Kristin! We are so glad that you are part of our Academy!
Join the Modern Direct Seller Academy with Kristin's Referral Code and get $5 off!   KRISTIN-HANKINS-MDSA