Let's Meet: Lindsay Dollinger
Lindsay is one of our Modern Direct Seller Academy members and has found modern direct seller success! And we interviewed her to learn all about it. Check out her story here.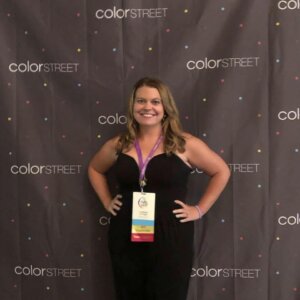 What is your Direct Sales Company & What inspired you to start your company? 
Hi! I'm Lindsay Dollinger: a Dog mama, Spanish teacher, and a Director with Color Street. I joined in April 2018 after trying my hand in some other companies.  I've always loved having my nails look nice but I have also always been a nail biter. However, when I tried Color Street, I fell in love and signed up to be a stylist that week!  My team is just shy of 40 amazing ladies and we have such a sisterhood. That's probably my biggest accomplishment.  I'm very proud of the team atmosphere we have!  I earned our 2019 incentive trip to Cancun, MX, and have achieved the first three months qualifications for our Circle of Excellence that just started in January.  I'm super excited to see what the future holds for us!
Tell us about your experience in the Modern Direct Seller Academy.
My time at MDSA is short as I recently just joined, but I already love it! I love all the training, the organization and content, the Facebook group and community for support and making great friends! I also love the monthly zoom call and the worksheets not only are they highly informative. But I just LOVE a good worksheet! 
What is your favorite part of being in the Academy?
My favorite part of the Academy is the Done-for-You training. I also love how accessible the academy is, not only I can enjoy the great content but I really love how my team can benefit from them too! 
Since you joined the Academy, how has your business grown?
I am glad I joined the Academy, my team and I are all so very excited for all the training. The academy provides us the content we need to be successful which I I know will help move their businesses forward and ultimately mine as well! 
What advice do you have for NEW direct sellers?
Two words for you: Be consistent! 
What advice do you have for direct sales LEADERS? 
Advice that I have for direct sales leaders is to be understanding. Not everyone wants and has the same goals as you nor has your drive.  But, we need all types of people to make a team run!
How can others connect with you?
Connect with Lindsay! 
My Blog: www.lovinglifewithlindsay.com 
Facebook:https://www.facebook.com/lindsay.dollinger   
Facebook Group: https://www.facebook.com/groups/colorstreetwithlindsaydollinger/ 
Instagram: www.instagram.com/teachhustletravel  
Website: https://www.colorstreet.com/LINDSAYDOLLINGER/
What is your Academy Referral Code?  LINDSAY-DOLLINGER-MDSA

Thank you, Lindsay! We are so glad that you are part of our Academy!