Let's Meet: Nikki Misiura
Nikki is one of our Modern Direct Seller Academy members and has found modern direct seller success! And we interviewed her to learn all about it. Check out her story here.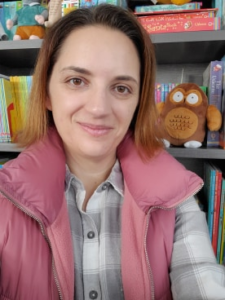 What is your Direct Sales Company & What inspired you to start your company? 
Hi! I am Nikki Misiura, I joined Usborne Books & More on New Year's Eve, 2018.  I am currently not a team leader but I have found my place in the company as a consultant (for now!).  I joined to bring awesome books into my house at a discount! I have stayed because it gives me something that is "mine" in addition to my full time job.  My two daughters (8 and 5) are growing up with books and nothing makes me happier than when they grab a book off my shelves and sit down to read.  Now, if only I could get them to put them away when they are done!!
Tell us about your experience in the Modern Direct Seller Academy.
MDSA has been my go to resource for support when I don't know what my next step is.  I have been doing Direct Sales for just over a year and it isn't my full time job.  That means it gives me the flexibility to do it in my own time at my own pace.  I didn't know what to do when I was ready to start an email campaign, here is where MDSA comes to the rescue!  Not only Becky's training, but the other members are amazing!  They are always quick to help and share their successes and ways to make something work.  I love the community feel it brings, I have made friends through MDSA that I wouldn't have otherwise met!  I love Wine Down Friday and Becky's random live pop ins.  MDSA has been invaluable for me in growing my business – looking for ideas outside my own team has given me so many new perspectives!  In such a short time as a  MDSA member, I have gained the insights and experience it would have taken me years to get on my own.
What is your favorite part of being in the Academy?
My favorite part of being in the Academy is community, I love the community! Because I'm not a team leader, I haven't used all of the features like the DFY training.  While I'm working full time I  miss a lot of the Masterminds and Office Hours. However,  I still get the whole experience by replaying videos and lives. I watch everything on replay and I still get so much from it – even when I can't be there live, I'm growing.
Since you joined the Academy, how has your business grown?
Since joining the Academy, my focus has been on getting processes in place – email lists, hostess coaching, messaging, all that fun stuff!  Becky has amazing resources for this so I've been able to build a solid foundation for my business that will stay in place and help support it as I grow and evolve as a business owner.
What advice do you have for NEW direct sellers?
One advice I have for new direct sellers is to pace yourself. Everyone's at a different pace it might be faster or slower than someone else's but it doesn't make it wrong!  Also, don't sign up for all the different resources at one time!  Try out one or two resources at a time to see what works.  If it doesn't work, move on, but don't force it. 
What advice do you have for direct sales LEADERS? 
Advice I have for direct sales leaders is to be organized!  Although training can be really helpful and is a solid resource to learn and establish new skills. But there should be a limit to the amount of training, too many training sessions can get a bit overwhelming! 
How can others connect with you?
Connect with Nikki! 
Email: nikki.misiura@hotmail.com
Facebook: https://www.facebook.com/groups/UBAMwithNikki/
Website: https://c8391.myubam.com/
What is your Academy Referral Code?  NIKKI-MISIURA-MDSA

Thank you, Nikki! We are so glad that you are part of our Academy!