March Modern Direct Seller Box Reveal: Spring into Action

March Modern Direct Seller Box Reveal: Spring into Action
We shipped out our March Modern Direct Seller Box filled with useful and fun stuff to help direct sellers Spring Into Action.  
If you missed out on our March box, I'm soooo sorry! It was so good. But I say that every month. Subscribers got their hands on 7 surprises plus an out of the box training all to help them work their biz, grow their biz, look good while they do it, and also some treats just for them (or to share with their customers)! 
Wanna know what they got? Keep reading for the deets on what was included in our March Spring Into Action Modern Direct Seller Box! 
PLEASE NOTE: Our March box is sold out, but you can subscribe to our upcoming Modern Direct Seller Box Now.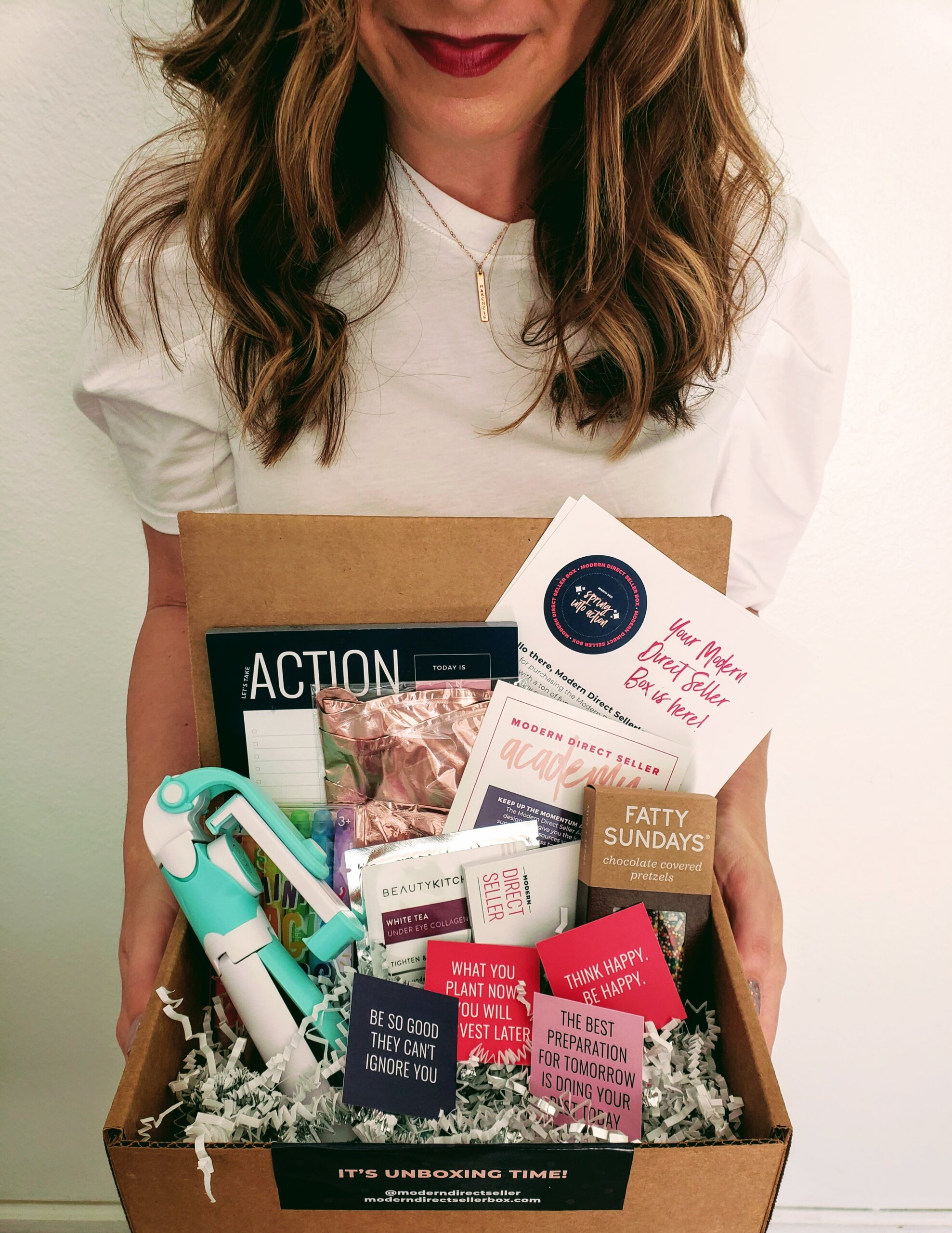 Subscribers to the Modern Direct Seller Box received these items below in March: 
Mint Selfie Stick & Tripod
This on-trend dual-purpose mint tripod/ selfie stick is perfect on the go. It includes a remote control, rotates a full 360 degrees and works with all smartphones.
Let's Take ACTION Notepad
We dreamed up the perfect action-focused notepad for direct sellers. After searching high and low, we couldn't find one we loved so made our own! This exclusive 100-page notepad will keep you focused on money-making priorities, as well as your daily 3+3+3's.
Mini Magic Liners Erasable Highlighters
You can make mistakes without fear when you highlight with Mini Magic Liners Erasable Highlighters! This set of six bold and bright colored and double-ended highlighters has you covered – highlight on one end, erase mistakes on the other!
Rose Gold 1, 2, 3 Balloons
Get ready to countdown your next new product launch, customer giveaway or sale with these stunning rose gold balloons. Simply blow up each number with the straw and seal, toss on a cute outfit and snap a few photos. Your followers will love the fun-factor when you show up on social media.
White Tea Collagen Eye Gels
Collagen under-eye gel pads are the ideal pre-selfie perk. Perfect for those early mornings after late nights, more energizing naps, long drives, or to wear at work to relieve eye stress from the computer; these eye gels are a boss babe must have. White Tea is the least processed of the three teas. Because of this, it retains a high amount of antioxidants that combat skin aging.
Sprinkles Chocolate Covered Pretzels
Sprinkles make everything better. E-v-e-r-y-t-h-I-n-g-! Made in the USA with just 3 simple ingredients: pretzels, chocolate, and rainbow sprinkles.
CinchShare Sticky Notes
Thank you to our amazing Modern Direct Seller Box sponsor, CinchShare! We love these fun and practical sticky notes to jot down #allthethings.
Think Outside the Box Training–
Spring Into Action
!
It's not all about what is IN the box, we also provide an online training and workbook to Think Outside the Box!
In March Modern Direct Seller Box subscribers training for March helped them get their business into gear, take some major leaps forward and focus on that money-making activity!  
Work, Grow, Look Good & Treat Yo'self
Wanna get in on the awesomeness! Our March box is sold out, but you can subscribe to our upcoming Modern Direct Seller Box Now—Monthly Surprises for Direct Sellers–delivered to YOU, every month! 

Check out the video below to see the actual products from our March Modern Direct Seller Box unboxing!