The fine-print: This post contains affiliate links, which means that if you click on one of the product links and make a purchase I'll receive a small commission at no additional expense to you. See the full affiliate disclosure in the footer for more info.
Would you like a more professional and easy to remember web address (such as http://beckysbook.club) rather than your home office provided web address (such as https://n4143.myubam.com)?  An easy to remember web address (also called a domain name) looks more professional and is easier for your customers to remember.  Follow the steps below to get your own web address that re-directs to your home office provided web site.
Don't forget to check out the FAQs at the end of this post for answers to frequently asked questions and other helpful information!
1. Head over to GoDaddy and search for the domain name you would like and complete the checkout process. Not sure what domain name to use? Your first and last name is always a great option (i.e. firstnamelastname.com)!
After you have purchased the domain name, follow the instructions below to forward (redirect) it to your home office provided website or any other website of your choice!
2. Click the down-arrow next to your name and then click My Products.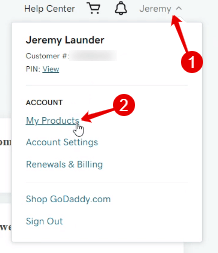 3. On the My Products screen click the Manage All button to see all of your domain names.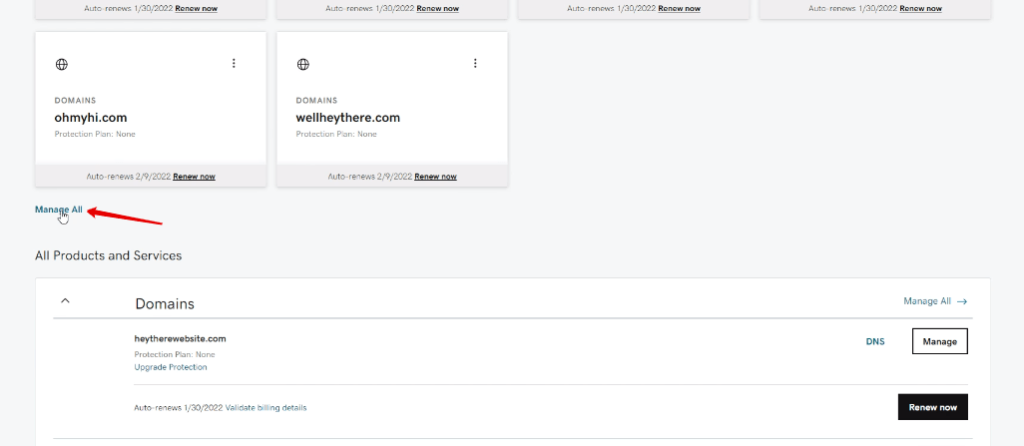 4. Click the three dots next to the domain name you want to forward then click Manage DNS.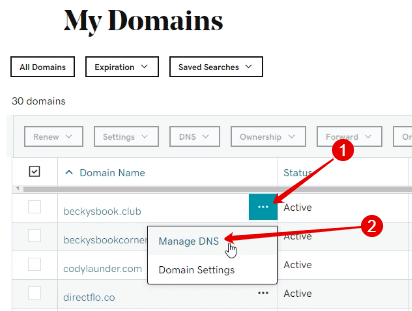 5. In the Forwarding section for your domain name click Add Forwarding.

6. Select the correct protocol for the destination website (either http or https, type in the destination website URL, select Permanent (301) for the Forward Type then click the Save button.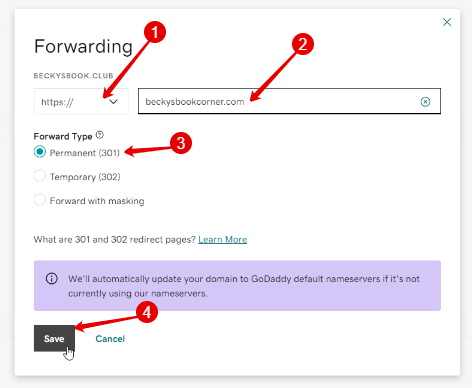 9. A Success message will pop up and you should now see the new forward you just created in the forwarding settings.

10. Test your settings by typing your new domain name into your web browser and verifying that it forwards properly to the destination website. It usually only takes a few minutes to start working but can take up to 24 hours for the servers to be updated and the forwarding to work properly.
Have any questions or comments on how to set this up for your page? Let us know in the comments below or send us a message.
Why do you prefer GoDaddy over other domain registrars?
GoDaddy is the world's largest domain registrar and we've never encountered any issues with our domain names there. Their domain management interface is also easy to use. We don't recommend GoDaddy for any other services like web hosting or email. We only recommend them for domain names.
They do attempt to up-sell you on things you typically don't need like extra domain privacy, web hosting and email. Steer clear of the up-sells and feel free to send us a message if you have any questions about whether you need a feature they are recommending and we'll be happy to help!
Is there anything else I can do with my new web address / domain name? Subdomains?
YES!
You can also setup subdomains if you want to setup different web addresses related to your main web address, but pointing to different pages.  For example, we have beckysbook.club redirected to beckysbookcorner.com. A subdomain is a portion of the web address before the main domain (subdomain.beckysbook.club).  You can have subdomains forward to different websites or pages.
Ways subdomains may come in handy are for parties or book fairs. Say you are hosting a party for a friend name Jane.  The direct link to her shopping page on your Usborne site is https://n4143.myubam.com/Event/608744.  Rather than sending that long and hard to remember link to everyone you could set up http://jane.yourdomain.com and have it redirect to Jane's party page https://n4143.myubam.com/Event/608744 on your Usborne site.
Subdomains are setup using the same steps above except when you get to step 5 you would click Add Forwarding in the Subdomain instead of the Domain section.