Boost Your Direct Sales Business with AI: 5 Ways to Use ChatGPT Today
Have you been hearing a lot of buzz about Artificial Intelligence? It's been all over the news, and it's the latest chatter in the business world. Let me break down for you what exactly AI is and how you can apply it to your Direct Sales biz.
AI programs, such as ChatGPT (which is my favorite option right now), are computer programs that can talk and respond to you as if it were a human response. Think about it as having your own personal virtual assistant (…and right now, a free virtual assistant with ChatGPT). ChatGPT has been taught to understand questions and prompts and can give you answers on just about anything. This is not Google where you search a topic and find websites. ChatGPT gives you a personalized response, minimizing the searching and saving you time.
Download the opt-in and get 15+ bonus prompts to help you get started!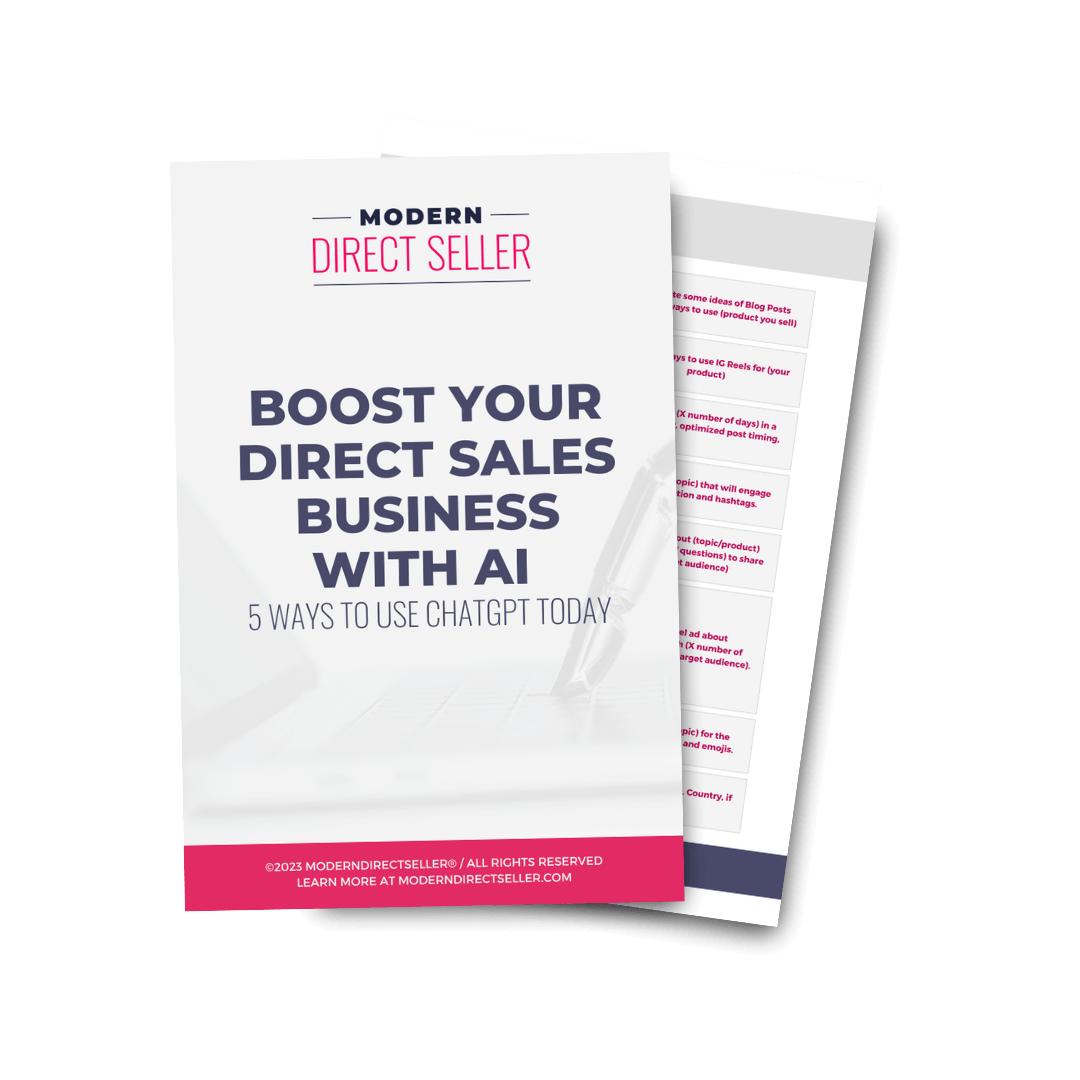 Are you ready to have your mind blown by what the use of programs like ChatGPT means for you in your business? Here are 5 ways you can use ChatGPT (or other AI Programs) in your Direct Sales Biz Today:
Social Media Content

. Do you ever struggle with creating content for your IG, Facebook, YouTube, etc.? Enter your AI tool of choice and tell it "Create Social Media Content for my (enter specific company/product) business," and boom, ideas at your fingertips in seconds.

Social Media Prompts/Captions

. Do you have a beautiful post you want to make but are stuck on what or how to say it? Ask your AI to "Generate an Instagram Post about a look behind the scenes of my (enter specific company/product) business." The program will give you a prompt complete with emojis AND hashtags.

Blog Posts

. Do you have a blog? If you don't, you should have one – I cover that in

HERE

. Listen up, bloggers! You can ask the program to create blog post ideas specific to you, give you Blog post titles, AND…are you ready for this? Generate an entire Blog Post for you. Yep, done. For. You. There are some caveats to using this feature for creating long-form content – such as blogs – that I will talk about later.

Proofreading and/or Improving what you've written

. One of my favorite features!! Catch what Autocorrect misses. Copy and paste whatever content you've created and ask the program to Proofread and/or improve the content. Yep. Pretty handy, huh??

Creating Quizzes

. This is a fun one. Simply tell the program to create a quiz about a specific topic and include your audience. Example: "Create a Quiz about Mother's Day for Foodies." The program will generate a Quiz for you to share on Social, in your parties, etc. and your next question can be "What are the answers?".
I've listed just a few ways to use the AI tools today in your biz, but the possibilities are truly endless, and you will see this technology grow in its uses and the applications to your business. As you start using these tools, keep in mind that there are some limitations. They are missing the creativity that YOU bring, and while the responses sound somewhat 'human,' they're still computer-generated and lack you – the secret sauce – to your business. Use the content generated by the tools as a starting point and inspiration, then tailor it to YOU and your specific voice. It's important to utilize YOUR best judgement and be a good human as you use these tools. As more people start deploying these tools, if you do not change up the content, everyone is going to sound the same, and lead to potential issues with plagiarism.
Here are a few tips for using ChatGPT:
Be Specific.

Tell the program exactly what you want it to do. When creating content, it helps to share the specific audience. Your results will be so much better.

Don't be afraid to 'boss' it around a little bit.

This is a computer program that isn't going to be upset if you keep asking for changes. After the content is generated, you can ask the program to make it shorter, longer, rephrase, make it friendlier, make it more formal, etc.

Be patient.

You're learning a new tool and the tool itself is still learning as well. ChatGPT can be a little glitchy and slow sometimes – but it's FREE right now.

Use it for inspiration.

Even though there are cut and paste options in AI programs and that seems like you can just hit the 'Easy Button', don't. Take the generated ideas and add your voice, your experience, your creativity.

Fun Uses.

Use the ChatGPT for personal reasons. Create a meal plan for the week. Have ChatGPT tell you a joke. How you can improve your skills in something.

Multiple Tools.

There are multiple programs that utilize AI – but I chose to highlight ChatGPT because it's currently Free. If you have a CanvaPro subscription, there is Magic

Write

as a tool you can use that is unlimited. Free Canva Users have 25 lifetime Free Prompts. Other paid tools include Jasper, Searchie, CopyAI, Copy Creator, and so many others. 
Alrighty Direct Seller, are you ready to adopt this new technology into your business? Drop us a line and let us know how you intend to use or are using these tools in your biz.
P.S. This blog title was crafted by ChatGPT. AND I used it to Proof-Read as well. Cool Right?