10 Customer Deets to Track
While I have been blessed to have a nice big healthy customer base, I have embarrassingly mixed up customers. Have you been there? Oy! It's the worst. I've messaged someone about an order and it was meant for the other Jennifer. Or, I have followed up with someone about hosting a party – and, ummm it wasn't following up. I had never mentioned it before. Or, thinking a customer lives near you – and, nope – they're on the other side of the country. Those details are hard to keep up with – right?
Get Your Customer Power Sheet Printable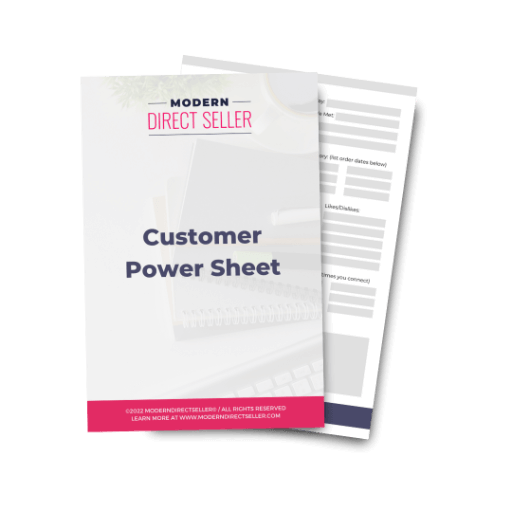 Being in the relationship-business, keeping track of these details is a requirement! In the beginning, it can be easy to remember who your customers are and what products they order. But, as you begin to scale your business, you'll need a system to help you out. You'll want to rely less on your brain and scattered post it notes, and more on an organized solution to keep all the info you need on your customers and potential customers right at your fingertips! I just shared some ideas of how to do this (for free) using Trello, but if you like writing things down – let's talk about how to do this!
A Simple Tool to Start Using Today
If you are a pen and paper gal, or just getting started in your biz, this is for you! A Customer Power Sheet is a simple tool to help you provide rockstar customer service.
Being organized is so important! When you are juggling your kids, home, and your biz, and more–you may only have 15 minutes (or less) at times to power through some work. You need to know exactly where to start when you have those few minutes to get things done.
That's the value of having your Customer Power Sheets on paper in a 3ring binder, you can take it with you anywhere! And when you have some free time, dive in and power though and get 'er done–take care of sending that thank you note, calling that customer to follow up on a question, send a happy birthday card, etc! (This is super helpful when your kiddo falls asleep in the car–you work, they sleep. Ta-Da! I don't dare wake a sleeping child! And, I've done a TON of business from the front seat of my car!)
Power up your customer service!
What and Why to Track
So let me lay this out for you–your Customer Power Sheets are going to hold all the info on your customers and potential customers. It's basically a paper version of a fancy CRM system if you've heard that buzz word. (CRM stands for Customer Relationship Management–which is all about managing the relationships with your customers so you can develop stronger relationships. Stronger relationships lead to increased sales. So it's a must as a business owner–which you are!)
10 Things to Track
Here are 10 things I recommend you track for your customers and potential customers:
Name and contact information (Duh!)

Birthday (A simple text, call, or card will make them feel so special)

How you met? (this is so helpful with building relationships!)

Order history (again this helps with follow up)

Party history (again, follow up!)

Wish list (if something goes on sale–gives you a reason to contact them or they have rewards to use!)

Favorite products (gives you ideas for other recommendations)

Likes/Dislikes (nurture that relationship!)

Their family's names–kids, hubby, pet! (Again, take the time to get to know your customer and what they care about <3)Contact History—just jot down each time you contact them (don't want to bug them too often, or let too much time go by)

Connection Checklist (So you know where you've connected!)
Why we track!
When you track these things, you're building relationships and CARING, genuinely, about your customers. You're taking the time to get to know your customers, and reach out to them proactively. If you don't have a tool to track your customers, I suggest you start here! You'll be amazed, in a short period of time what a difference it'll make in the customer service you provide.
I'm even providing a pretty little print out to make it easy for you to start on this today! Check out the free Customer Power Sheet download below.
Get Your Customer Power Sheet Printable