Best practices for events. Part 1–find & prepare!
Looking for PART 2 on running & following up on events? Check it out!
Ready to grow your business outside of your immediate circle? Connect with new customers, hostesses and team members in-person? Maybe you'll get lucky and also get some yummy fair food and score yourself a unique handmade item! Let's talk EVENTS. I love doing events and have found a TON of success growing my network through vendor events. It's all about knowing you're in the right place at the right time in your community.
In this blog post you'll learn why you want to add an event to your calendar, plus how to:
Find the right event

Prepare for an event
Before we get going, check out your direct sales' company policy on events to ensure you're clear on the policies. Policies are there to protect you and your company and be sure everyone is successful–yourself included!
Get your FREE Best Practices for Events Checklist!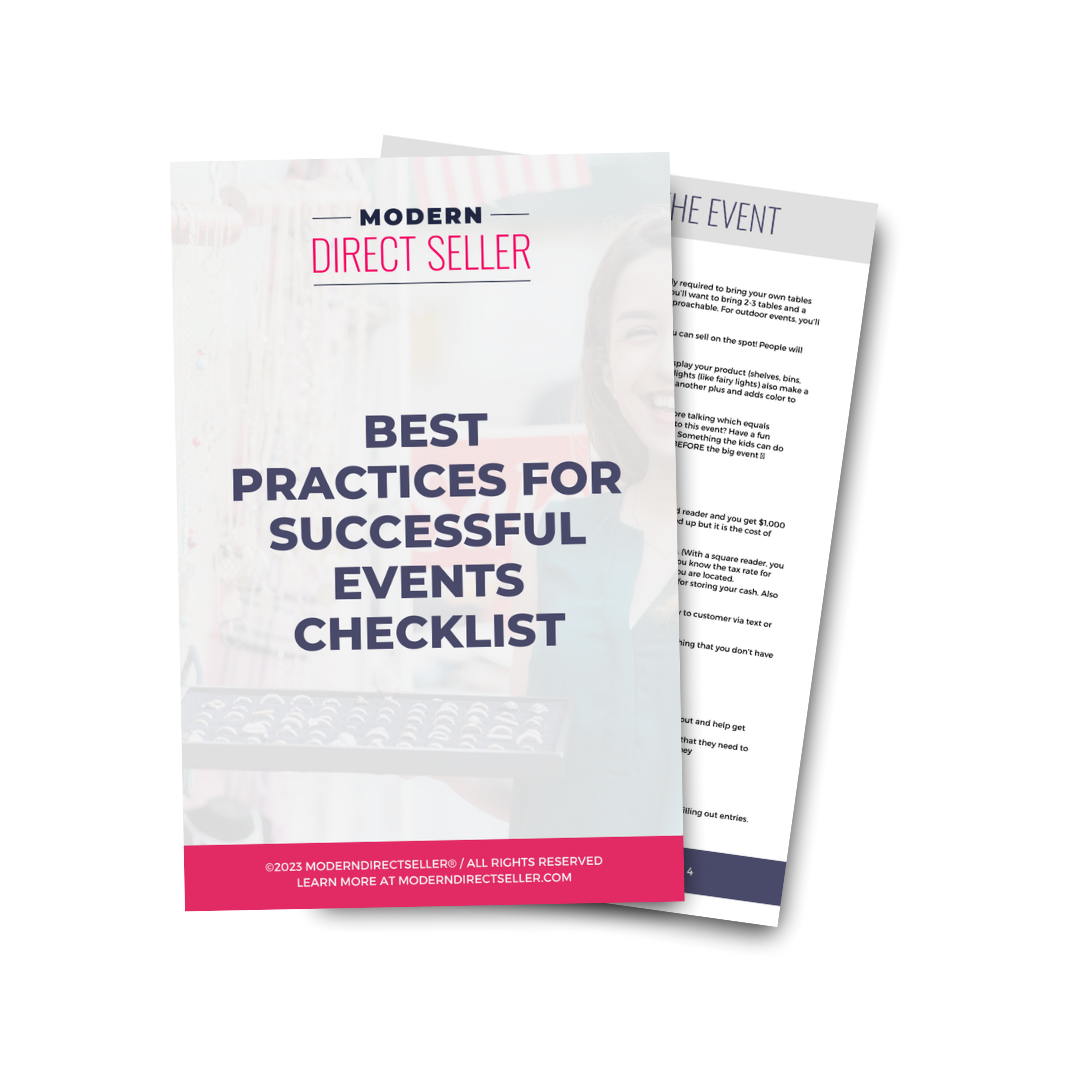 Why add a booth or pop-up event to your calendar? 
There are two main goals for events 1) to get your name out in your community and 2) get leads for parties, new customers and future team members. Consider sales an added bonus!
Many times you get stuck in your friend circle and events are a great way to break out of that circle. It's also a great way to get out in your community and share what you love to do with others.
Where to find the right event? 
So many places! A great place to find local events is on Facebook! Check the events section in your area and look for criteria that's important to you.
Here are my top tips for selecting the right event:  
Size of event
You want to look for events that will be well attended. Getting in front of 100+ people in one day is much further reaching than an in-home or online show. . That's a great opportunity. If you come across an event where there will be thousands, that is even better. The more people, the better chance you'll have to make a connection and make sales! Keep in mind, smaller events can often allow for a deeper conversation with guests, while larger events will deliver you the most leads to follow up on after the event.
Type of event
Think about the people that buy your product. What types of events will they attend – festivals, expos, holiday pop-up shops, multi-vendor events, etc.? This is so important because you'll be more successful if you're where your potential customers are.
So bigger does = better when it comes to events, but being at big events that are targeted to the types of people that buy your product will make you that much more successful!
A good question to ask is: Are people at this event to shop? If the answer is no, then it is important to have that mindset going into the event. It is more likely you will walk away having built relationships but not with a ton of sales.
Cost of event. 
Events typically have a vendor fee. If you're just starting out, you probably don't want to spend more than $25-50. Free is even better! And always take the time to negotiate that price. A great way to negotiate the price down is to offer an interactive activity that will appeal to the event coordinator's audience at your booth. Get creative! This is also a great way to draw people into your booth (more on that shortly).
Some of my bigger weekend events cost $250-400, but I am ok with that knowing how many leads and potential sales that I'll be able to pull-in since the traffic is huge!
Ask questions. 
Once you find a potential event, ask questions! How long have they been doing it? What was their attendance last year? You could even ask for info on a vendor that was at the event the prior year to ask them about their experience. You want to do your homework to be sure this is a good event for you!
Also, be sure to ask if they have a consultant from your direct sales business already signed up, or if one was a vendor the prior year. If the answer is yes, move on! Each event should only have one consultant from each direct sales company present.
And on that topic–if the event looks good and you're moving forward, be sure to ask for exclusivity to be sure that you're the only consultant from your direct sales company.
Next up! Getting ready for the event. 
Here's all the info for things you'll want to get together to bring to your event. 
Booth set up
Table, chairs, canopy. Check! A typical booth is a 10 x 10. You're usually required to bring your own tables and chairs (your event coordinator should provide this info to you). You'll want to bring 2-3 tables and a chair if you'd like to sit–I recommend you stand up! Look lively and approachable. For outdoor events, you'll most likely need to also bring your own canopy.
Product! Be sure to bring product to display and if possible product you can sell on the spot! People will buy more if it's available to purchase right then and there.
PrettyandInviting Display–bring items that enable you to beautifully display your product (shelves, bins, easels, etc). And make sure you have nice table cloths. Battery operated lights (like fairy lights) also make a great attraction to your table – especially in doors. Seasonal Decor is also another plus and adds color to your booth.
People will want to hang out at a visually appealing display (leading to more talking which equals connections and sales!) Will shoppers potentially be bringing their kiddos to this event? Have a fun giveaway for kids like Crayons and Coloring sheets related to your product. Something the kids can do while they shop in your booth. A huge prep tip, practice your table set up BEFORE the big event 🙂
Making sales and taking payments!
I recommend a Square card reader to take payment. They send you a free card reader and you get $1,000 of free processing to start. You will pay transaction fees after your $1,000 is used up but it is the cost of doing business. Most people will not have cash on them!
You'll also need a calculator (or your phone) for totaling orders, and the tax rate. (With a square reader, you can program tax so you don't have to figure it out for each sale!). Note: Be sure you know the tax rate for both goods and services AND food items. They can differ depending on where you are located.
Some people still use cash so be sure you have a cash box (I use a zipper pouch) for storing your cash. Also bring about $80-$100 in change. Lots of $1's and coins too.
No need for paper receipt slips. If you're using Square, receipts will be sent directly to customer via text or email — even if they did pay with cash.
Be sure you also have order forms on hand for someone that wants to order something that you don't have on hand.
Raffle! 
A great way to collect leads is with a raffle! It'll also give you something easy to talk about and help get people to your booth!  
Prize to display (if applicable) — I usually offer a gift certificate for a shopping spree that they need to redeem with me. That way, if they don't redeem it, I haven't lost any product or money 

Lead slips that collect the following info:

Their contact information

Interest in hosting a party? (Virtual or in person) 

Interest in learning about the biz?

Jar (or if you have a suitable product you sell) to put raffle slips in

Pens (filling out raffle entries) and a couple clipboards to make it really easy for those filling out entries. 
Signage and Collateral 
Here's a summary of the types of signage and collateral you'll want to bring with you! 
Catalogs (if you have them). Be sure to have your contact information included on the catalog! Here's a Tip! Catalogs can be pricey and a lot of times attendees at a vendor event just want one 'to look'. For your 'lookers', bring last season's catalog (if they haven't changed too much) and place a sticker on it "Seasons Change and Catalogs too, Contact me to find out what's new". Include your contact info so that they can easily get in touch with you. Save your current season's catalog for those that are your future hosts, future team members, or those intending to order. 

Banner for backdrop of booth–a great way to look professional and give a fun visual for your booth. 

Business cards for those that ask for your contact information! Another way to ensure you look professional. 

Plastic bags for product purchased. I recommend branded bags if available, as it's a great way to advertise at the event–all of your happy customers walking around with branded bags! 

Signage for your booth such as 

Specials you're running

Raffle sign–what you're raffling off!

Venmo and/or Paypal QR Code for payment

Available party dates–a sign with your next five dates you have available and any booking incentive you are offering.  

Signage Tip! Create your Signs via Canva (or preferred program) and print them out. Then place in inexpensive Photo Frames. Your signs will look professional and you can even add some pizzazz to your table with your frames!
Other important items to bring. 
Your calendar, this way you know what dates you have open for parties! Book a party right there and exchange contact information.

Incentives for people to book a party! Put together some "Booking Bags"–include a coupon, some info about your company, some goodies, a catalog, etc. Another take on "Booking Bags" – "Book a Party get a prize" Bags. Take some fun looking gift bags, place all of the regular items for a booking bag BUT include a small sample product from your company. Also have a fun sign that says "Book a Party get a Prize". You can also use Poly Mailers to create those "Booking Bags/Booking Packages"! Super inexpensive. I like to use

Magical Mailers

.

Flyers/brochures with information on the biz opportunity. (And be sure to follow up after the event if they're interested.)

Freebies to pass out! (candy, stickers, etc!) People love to stop by when they can pick up a little goodie! 
Oh, and this is soooo important. Don't miss this!
HAVE FUN!
Whew! And to make your life easier–I've created a handy dandy event checklist. Check it out below.
Get your FREE Best Practices for Events Checklist!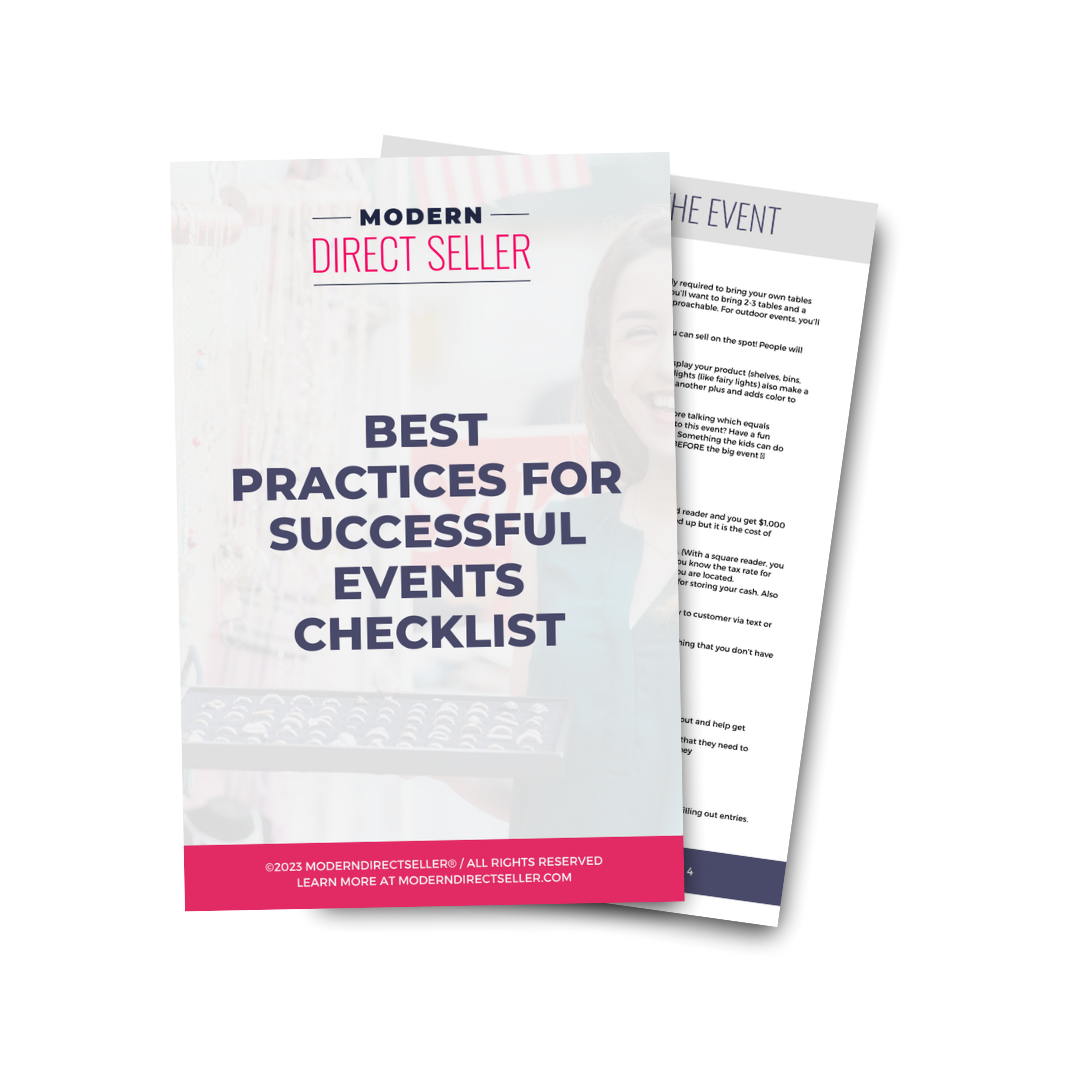 I sure hope you are now feeling excited and equipped to add an event to your calendar including how to find the right events and prepare for them!
Check out part two of Best Practices for Successful Events with all the details on running events including how to talk to people, and how to follow up with leads from your event. I also have a special offer for you to get your hands on my email sequence I send to my leads to build relationships. Check it out!