Make A List & Grow Your Network Like A Direct Sales Boss!
As a direct seller, you'll always be working to expand your network. When you're just starting out, you'll want to make a list of who you know that 1) may be interested in your product OR 2) knows someone who may be interested. And usually MOST people you know will fall into one of those categories!
This step may seem elementary–but don't skip it!
You don't want to be selling just to your mom and best friend. You need to get outside your circle, but it first starts inside your warm market with personal connections.
Begin writing a list of who you know. Don't pre-judge. Because you never know who might need your product. Keep your list electronically or on paper —  pretty much anywhere but in your head. I've even included a pretty printable for you to use to make your list–check it out at the bottom of this post.
Now, let's get to it–and make a list like a direct seller pro!
Get Your Make A List Printable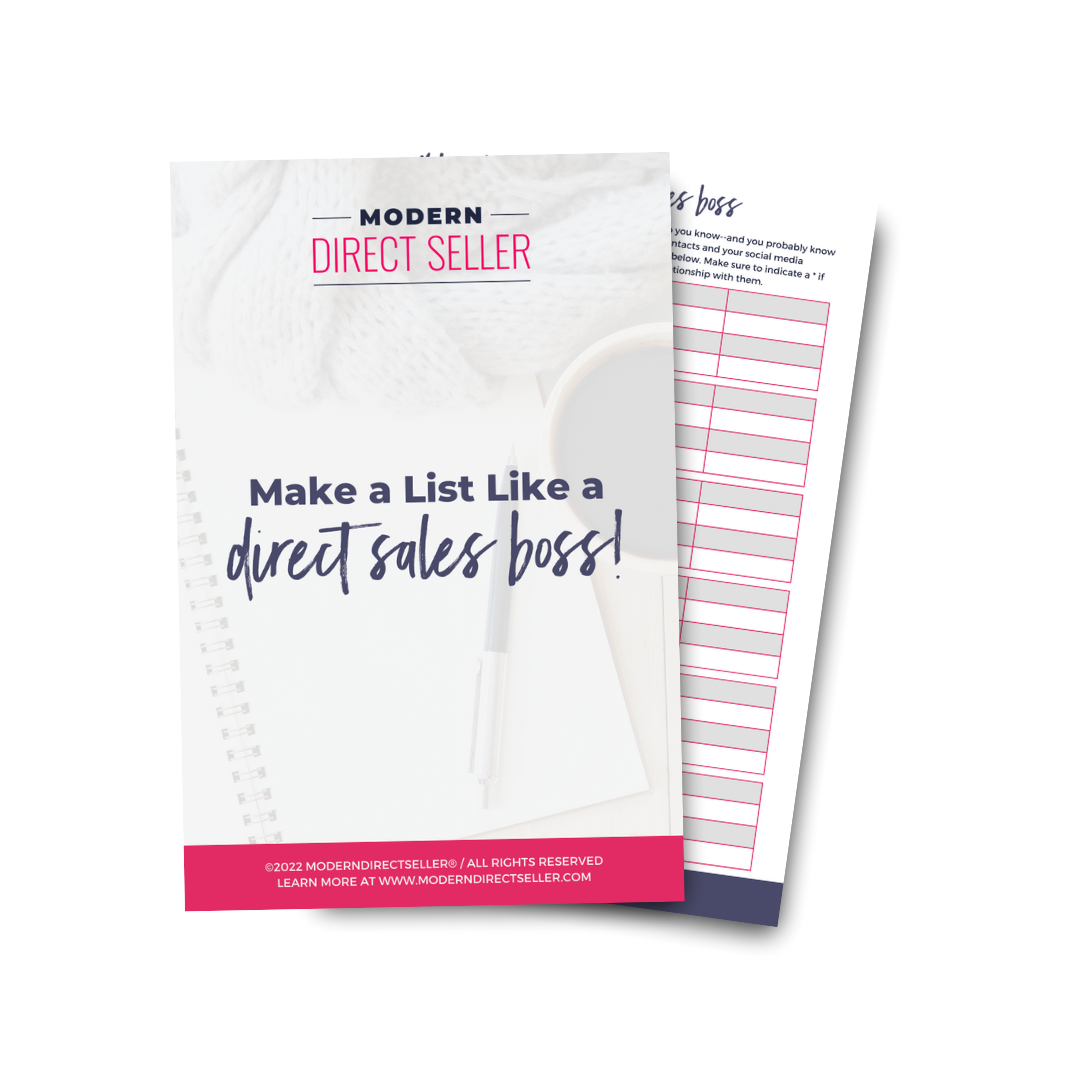 Use the acronym FRANKS to jog your memory as you make your initial list!
FRANKS is a great jumping off point for making your list. You want to think about people in each of these categories:
F= Friends
R=Relatives
A=Acquaintances
N=Neighbors
K=Kids' connections
S=Spouse's connections
Shoot for 10 people for each section and you'll be off to a great start.
Please read this little bit of Becky wisdom. I want to be sure you hear this–being authentic is such a huge part of success. When you scroll through your phone contacts and your social media friends to build your list be realistic in regards to who you have a recent relationship with vs. someone you haven't been in contact with for years. If you come at someone you haven't talked to for a while, you can't just come at that person with "Buy my product." That's just annoying and we don't want to be annoying. We want to be REAL!
You have to actually build a relationship first, before you try to engage them in your business. Mark those people with a ** to remind you that there's work to be done relationship-building before talking business.
Identify Your Top 20
Once you make your list, identify your Top 20. These are those closest to you. They'll be the first ones you reach out to when you launch your business, they'll be your biggest cheerleaders and they might just be the ones you can reach out to when you need a little boost. 
For those FRANKS you have a relationship with go ahead and share your business, ASK if they would like to follow your journey in your exclusive customer group, ask if they know someone that would be interested in your product, invite them to a pop-up if they're nearby, or offer a sample!
Say something like:
I'm really excited that I'm the newest business owner with (company name)! You know how much my family and I just love the products. Eeeeps – I'm so excited!
Naturally, they will respond with "congrats" or "Yay!" or "Way to go!" and want to offer their support. You can keep it conversational and reply with something like:
I'd love to share my journey with you! I'm setting up an exclusive group on Facebook so you can get a behind the scenes peek of what I'm up to — would you like an invite?  
Check out my recent post on how to intentionally and authentically build relationships and increase sales.
And once you start reaching out to those within your warm network, make sure you're keeping track of your customers and potential customers–check out these posts with the 411 on how to track using trello or pen and paper!  
Ultimately, our goal is to get out of the Top 20 and even out of the FRANKS — we want to reach a new audience of potential customers as you grow. (There are many ways to do that such as pop-up events, booking parties from parties, networking and more!)
Make it a living document!
Your work isn't done here. Continue to add to this list as you grow your network over time. Keep your list handy.
I suggest you take a look at your list on the regular–say once a month and set aside time to look at who you haven't reached out to and also add new FRANKS!
Now let's get busy and make that list.
I'm even providing a pretty little print out to make it easy for you to start on this today! Check out the FREE Make a List Like a Direct Sales Boss download below.
Get Your Make A List Printable